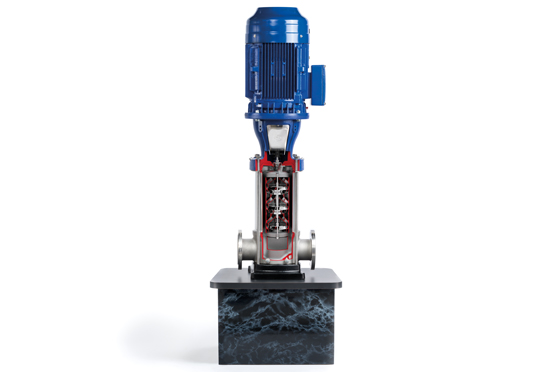 DPV 125: Most efficient in its segment
DP-Pumps introduces the DPV 125. Our most advanced vertical multi-stage centrifugal pump for transporting large volumes of drinking and process water. It seamlessly meets the growing demand for a solid, compact as well as efficient pump for larger capacities (nominal capacity at optimum efficiency 125 m3/h), for example for water transport, drinking water and fire-extinguishing installations, boiler supply, district-heating or cleaning and washing systems.
The DPV 125 is not only the most energy-efficient pomp in its segment, it also allows for flexible installation thanks to its compact construction. Besides, its material quality and construction techniques make it a sustainable pump.
Working range DPV 125

Maximum capacity: 160 m3/h (50 Hz), 190m3h (60 Hz)
Qopt: 125 m3/h (50 Hz), 155 m3/h (60Hz)
Number of stages: 4 (50Hz), 2 (60Hz)
Power rating: 45 kW


Energy-efficient: High hydraulic output: 80%
Compact & solid: Quiet, low-vibration pump for a long, trouble-free service life
Suitable for drinking water: SS AISI 304 or 316, with WRAS, ACS and NSF certification.
Easy to maintain